Saturday, May 28, 2005
All about KL.
Well, didn't really have the mood, time or energy to update upon coming home - so this post is a little belated in a way. But be prepared - long entry coming up, ranting all bout KL, KL and more KL!
KL was lots of fun! Quaint or dilapidated buildings, depending on which angle you decide to look at things from; shops and shops waving the "SALE" sign temptingly in your face; fantastic buys priced at obscenely low costs; the sweetest wedding I've attended to date and so much more.
Some quaint little coffeeshop place we walked past
Near the hotel with my favourite Quiksilver poster!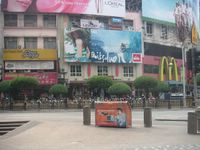 View from our hotel room window :)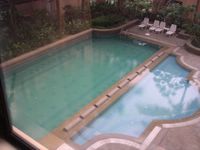 Nice, isn't it?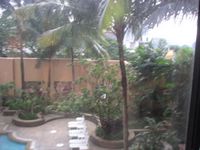 I bought so many things from KL - going there with one bag and coming back with three! The moment I stepped into Jo's mom's car, her mom was all like "wow Dalena I see you did a lot of shopping there!" In fact, "a lot of shopping" might even be somewhat of an understatement, considering that I was only there for three measly days, of which the first day was spent settling in and preparing for the wedding, half of the second day spent recuperating from the previous night of alcohol-induced craziness...we technically had only one day's worth of shopping, or perhaps even less than that. So, for the short period of time spent on shopping, we certainly bought a lot of stuff! (or rather, *I* did!)
Shopping on Tuesday
My pretty new pair of sandals!
Wearing one of the many new necklaces I bought
The point is, I'm rather broke now. (As I have been repeatedly stressing on in my past few entries.) I honestly need to impose a
strict
shopping ban, but I simply have too little resolve and discipline. Too many people have told me that I've bought more on this trip than they usually do in a whole year. And the worst part is that the Great Singapore Sale just started, which means MORE good bargains and MORE shopping to do = MORE money spent = a very poor me.
Regarding alcohol and parties, the post-wedding festivities were lots of fun. Come to think of it, I quite miss the media circle of people. You get to meet all sorts of people from all walks of life, which really is highly interesting because you wouldn't be able to have that chance to meet them otherwise.
Feeling utterly high after many glasses of red and white wines, champagnes, whiskey shots, etc (check out Jo's red face)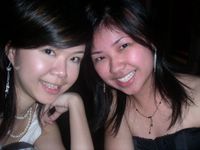 Eddie and Linda are honestly SO loving, Jo and I were almost moved to tears during the dinner. As I sat there watching them walk down the red carpet, and as I listened to the speech he gave about Linda being the embodiment of unconditional love and witnessed how
sweet
they both simply were, it seemed to awaken this part of me that yearns to be cuddled and hugged - hoping to be loved for who I am, hoping to be loved that much too. Attending their wedding has made me dream hopeful dreams of being loved and loving so much someday in the long road that awaits me.
Ballroom decorations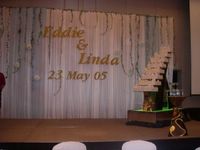 Walking down the red carpet
Blissfully slow-dancing...
Ah, the things weddings can do to you.