Sunday, May 22, 2005
Cutest members of the household.
Watched the hc drama production just now, it was pretty good - extremely hilarious though admittedly confusing. I wasn't too satisfied with the way it ended though, but I thought it was a lot better than last year's!
And I spent the last one hour downstairs talking while mosquitoes happily fed on me. Now I have a grand total of three itchy and very annoying bites that I can't seem to stop scratching. :( Grr, mosquitoes should all go to hell for being such bloodsuckers.
Then, I tried to take a picture of the newest addition to the family - a dumbass dwarf hamster that joined us two weeks ago on mothers' day - and I must say that he is a highly uncooperative creature! Took so many pictures of it but he just wouldn't keep still and strike a cute pose even for a few seconds, instead, choosing to run around like a hyperactive rat with its tail on fire.
First, he looked left.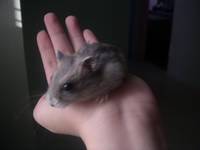 Then, he looked right.
BUT he just refused to look AT the camera! That camera-shy rat. :(
Now that I think about it, that looked like a really weird demonstration of "what to do before you cross the road - look left, look right, look left again, then walk". Huh.
Compared to my little poseur pixie, the hamster (which we named dust, or dusty) is sooooooooo tiny.
Here's my darling guinea pig when she first entered the house last year in January!
Then, due to the over-ingestion of cabbage (which happens to be her favourite food in the world), she's now like this...
That glutton. She also refused to keep still so I had to bribe her with cabbage so she'd keep still while munching.
Cute right? :P