Tuesday, May 17, 2005
Me and my tiara.
Celebrated shauna's birthday like one week early in advance today - we bought her a gymball! After heading to serene's house yesterday to bounce the ball around and sit on it, I'm suddenly inspired to get one too because it's so fun to sit on. Anyway, like serene says, sitting on the ball to watch tv or whatever is also some kind of mild exercise, and um, build core stability....or something like that. Well, whatever that works to justify yet another potentially useless but fun purchase will do! :p
Ooh, and she finally gave me my birthday present, about three months ++ belated, but hell, it's something that I always wanted but never got because it has
zero
practical value. A
tiara
! Apparently the moment she saw it, she thought of me. Heh. I thought it was rather sweet of her to remember me while she was in HongKong anyway.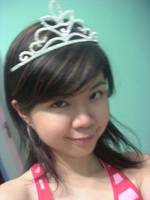 me and my tiara!
Isn't it pretty? :P
Now I am officially a self-proclaimed temporary member of the royalty for the week. You may call me princess dalena until I get bored of the title.
The sad thing is, the tiara is so pretty but there's nowhere I can wear it to, nothing I can do with it, etc, so all it does is sit on my shelf looking pretty!
Yay to shauna! *hughughug*