Tuesday, June 28, 2005
Pictures as promised.
mom's bag vs mine
I caved in and decided to use this huge bag (the LV one on the right) because the smaller one exploded (check previous entries), so no choice. I am such a horrible packer.
my malacca bedroom
There, my favourite part of the room - the bed! Freshly changed bedsheets, clean and shiny parquet floors (after a lot of sweat and toil on my part)...it isn't very big though, I got the smallest bedroom and my bed takes up sooo much space. But I still like it! :)
me in my room
Post-housework, post-cleaning up of self, pre-dinner.
yummy yum yum!
Crazily HUGE bowls of shaved ice. The pink one is soursop-flavoured, and the yellow one is mango-flavoured. We weren't expecting such huge bowls, so we ordered one each, and in the end only daddy managed to finish the whole thing...I worked my way through half the bowl before I became really cold and full so I decided to give up.
haunted adventure
Those people in costumes were supposed to be publicity for the
Haunted Adventure
ride in Genting's indoor theme park! We didn't give it a shot, though.
looks of horror
So, the three of us were on the ferris wheel which went round and round and round forever and ever and ever because the operator forgot about us and hence didn't let us down, while the neighbouring carriages were happily being loaded and unloaded. See our expressions? Our reactions to the prospect of being stuck on the wheel forever! (We were bored, can't you tell?)
oyster mushrooms
In the little mushroom farm near the Genting hotels. This is the cutest type of mushroom they were growing there!
peasprouts
The farm also grew some veggies, including these pea sprouts. See the difference in the left and right halves? The latter is how it looks like after being harvested.
mommy & daddy
This is a really unglam picture - daddy was in the midst of eating his tea egg but I insisted on snapping a photo of them there and then! :P
doe, a deer, a female deer
Weird statues decorating the courtyard portion of the mushroom farm.
cute wittle kitty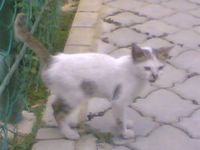 Isn't she just so sweet? The farm's resident kitty.
Alright, I'm tired. That's enough pictures for today.