Sunday, June 19, 2005
Social night.
Well, Tango wing's OCS social night was generally uneventful, even plummeting down to the "boring" status at times. However, thankfully the company more than made up for it!
Our table boasted a RJC majority - with yinquan and I, amanda and qiyan, josiah and yingzhi, winnie, esther and weeping around - so at least there was a comforting sense of familiarity, instead of the awkwardness that accompanies painful conversation starters with total stranger. There were also sprinklings of familiar faces around.
The program committee definitely did something wrong though, I don't think many of us were particularly entertained the whole night.
with yq - when we just got there
at the pier enjoying the sea breeze with amanda
cheryl and her spunky hairstyle!
tablegirls: esther, winnie, me.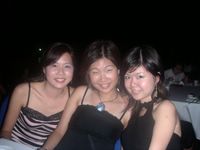 check out my outfit :D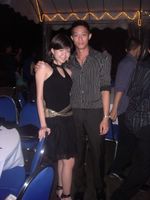 After the whole thing, some of us tumbled into the cabs and headed off to Holland V, where we intended to go Wala Wala's for drinks. The place was too damn crowded as usual though, so a bunch of us ended up at Gelare's eating ice cream! Yum! :)
And for the first time in days....I reached home before midnight! (though barely - a minute or two before, but nevertheless, still before!)