Monday, July 11, 2005
Busybee weekend.
Friday
: I earned $60 just doing a handphone survey - good money right! After that, met zhuanghui for dinner, then ran over to cityhall to meet the SPH girls for drinks. We ended up sitting around at Indochine waterfront at the Asian Civilisation Museum - it is really a nice place to chill out in, though it still pales in comparison to the Club Street branch. I haven't seen jo and rachel for sooooo long it really felt good just sitting around and talking about random silly things.
my pretty strawberry margarita
me, sheryl & jo
sheryl's eyes are closed!
--
Saturday
: Roy is back from Perth! So met up with the bunch for dinner at NYDC. Too bad so many of us couldn't make it - I ended up being the only girl there, grr. I was late again (as usual) by an hour, and caused shan'er to be late as well by default because he was waiting for me. *blush* Then we headed over to Tango's - our traditional hangout since we started meeting up regularly last year for some drinks and stuff. After which I got a lift from royden to town to Alley Bar for awhile...I've been frequenting that place so often the bartender actually recognises me. Anyhow it seems like the past few weeks have been spent at various bars and pubs, just drinking and chilling with my friends. I can feel my liver starting to become corroded from an overload of alcohol already!
with my SISTERS, shan & khel! :P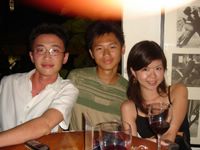 royden's eyes won't stay open...
straits time crimedesk boy, haoxiang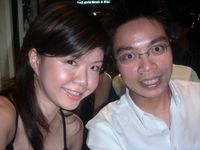 poseur khel
poseur me!
perthboy hiding from the camera
attempt at self-taken groupshot, but the flash blocked khel's face out
groupshot!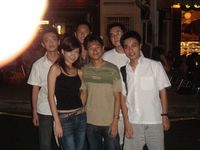 --
Sunday
: Woke up really late to grey, dreary skies. Rushed off to math tuition (which I was late for), then bustled off to Suntec City for dinner with my orientation group! Group 16 is generally filled with nice people, but the night was rather uneventful. Dinner at
The Rice Table
was followed by dessert at
Max Brenner's
with the buddy group 15 - I think I'm addicted to their suckaos! I met Tabbi there! I haven't seen her since I left RGPS, oh gosh, that was 7 whole years ago. Anyway, we all had our share of funny moments and crazy conversation, but I left early to head over to the South Bridge jazz bar to watch some jazz band play live with a bunch of the PSC people. Only yuepeng and philip were the real jazz appreciators though - the rest of us were poseur shites chatting happily in the bar, merely treating the music as a background thing. See my point about bars turning into a habitual hangout for me? :P