Sunday, July 31, 2005
Closing time.
It felt a little strange, and a little invasive last night when I attended SMU's
Closing Time
ceremony with the rest of the OG considering that none of us have studied in the old SMU campus at Bukit Timah before. The library was rather packed, with people teeming in and outside of the building - some simply chilling out with their friends, and others (like us) inside watching and listening to the bands invited to perform.
Electrico was there, and boy were they good!
with jason and zhiwei
cheryl & I on the dancefloor!
the crowd grooving and clapping to the music
part of the OG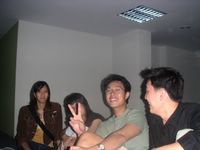 and I met shirley too
there was also EIC...I liked them too. :)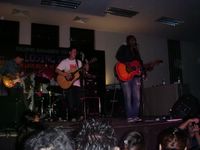 at the end of it all there was confetti too!
At the end of it all, cheryl and I both practically lost our voices from screaming too much with the rest of the crowd to the music. We abandoned the rest of the OG who were happily sitting in a quiet corner upstairs, and ran to the dancefloor to alleviate our boredom. We bumped into quite a number of people there - Singapore really does seem way too small, considering how everybody seems to be linked to everyone else in some way or another.
After the last band (EIC) played the supposed last song (predictably, Semisonic's
Closing Time
) there were two more encores. The very last song was somehow really touching, even to me as the bystander with no emotions attached to the old campus. I can imagine that for the seniors, moving to the new campus would inspire mixed feelings - of both nostalgia and excitement - goodbye to cosy, comfortable, familiar campus for them, but
hello
spanking new shiny town campus.
--
Feeling rather groggy and drugged at the moment, considering I only had 2 hours of sleep last night. Need to head to the new city campus now for
Vivace
. I hope I don't end up as a walking zombie while walking from booth to booth later on!
Labels: school