Sunday, July 31, 2005
Vivace!
I have to say that I really do like the new SMU town campus quite a fair bit - the buildings look somewhat like shopping malls, with their glassy exteriors and clean edges - and we all know that shopping malls always appeal to dalena lee, don't we? :P
Vivace
was really quite fun, despite all the moaning and groaning we all went through what with half of us not getting enough sleep the night before. I topped the lack-of-sleep charts with only 2 hours of sleep last night, though. Similarly sleep-deprived tzeyi kindly gave me a lift to school again - oh gosh, this is starting to become a habit!
The original plan was to walk through the underground concourse and visit all the CCA booths with the OG, but since poor tzeyi was orientation-group-less, I decided to walk around with him, michelle and shan'er instead. I'm glad I did, though, because they really are good fun and great company.
one of the
smuve
buses
Before we even reached campus green in the morning, we were unluckily held back by a procession of buses full of people waving cheesily at the roads and other fellow unfortunate cars! This is just one of the buses - there were about 5 or more in total.
with michelle and her funky new specs
lance, me & tzeyi (who's still in sleeping mode)
bumped into cheryl at campus green
The prettiest part was when they mass-released a load of helium balloons into the air. Tried taking a picture of it but I couldn't capture anything nice, so I shan't upload my pathetic attempts. I bet bras basah is going to be full of deflated balloons tomorrow once all the balloons lose their buoyancy and start plummeting to the ground like dead birds. Tsk tsk, the litter we're providing. All this trouble just for the sake of moving campuses...
with evita outside the gym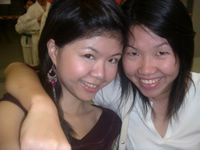 my favourite fatmouse ziyi!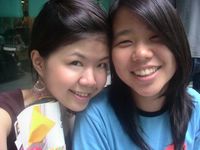 ziyi, me & jamie :)
we found sam inside the gym
I have no idea why sam was rolling her eyes so happily...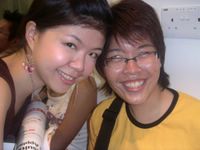 After acquiring our 10 stamps, we hung around for half an hour before the gym opened so we could collect our goodie bags. Then the 4 of us ran off to eat lunch - and tzeyi had a brilliant inspiration: to go to Golden Mile Complex for their yummy but very ulu steamboat. Haven't been there for ages and ages - I didn't know they were open for business in the daytime!
with shan'er after lunch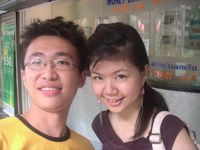 Once I was all full and contented, I crawled home (with tzeyi's help again of course haha) to grab some sleep. Only managed to fit in 3 hours of sleep, though, before I was awoken for dinner, so now I'm still really quite, quite tired. Took a hell lot of photos today but I'm too tired and lazy to upload all of them now, so that's all for now I guess. Zzz.
Labels: school