Wednesday, September 14, 2005
I like photos, don't you too?
Just a quick photo update - yes, I have been lazy and erratic with uploading the pictures, hence this backdates all the way mid-August. (wow, that's an entire month ago - does time fly or what?!)
pretty and pink then; dead and gone now.
strawberry smiles! :) :) :)
frozen strawberries with icecream within, mm.
when I *first* cut my hair, complete with bangs and all.
weiming's strawberry jam (i look like i'm about 12 years old here)
hello, I'm from SMU-air - would you like coffee, tea or me? :D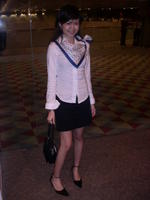 what a rare sight to see all of us so respectably dressed!
at dinner after that (sans silly SMU scarf)
saying bye to haoxiang...
at Union Square - I'll always be daddy's girl. ;)
michael's very large and pink face taking centre stage
lunch with my favourite threebies girls
Ack, round #2 of the flying season has begun. With all the UK people going poof one after another, I foresee many trips to Changi in the next few weeks.
It's time to practise holding back the dam of tears and let go of what ought to be let go of.