Tuesday, September 20, 2005
Random spurts of insanity.
Sent xiuming off to London last Saturday morning, and yesterday night was kemmy's turn to head off to Nottingham. It's going to be strange without her around anymore - I cried a little only at the gates when I hugged her goodbye (though I thought I was quite resolute about not crying...) - still, I'm sure she'll have alot of fun there.
byebye kemmypoots!
sharon was coincidentally taking the same flight!
with my jo who's leaving this sunday :(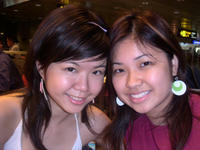 Sending people off makes me sad - but well, there're just two more send-offs left before I'm done with Changi for quite awhile. Jo's off to London on Sunday (sigh) and then last send-off will be for the Oxford people next Wednesday...zhuanghui, serene, rachel, sheryl, timyap, john, crystal, etc...I hope I don't cry too much. :(
I originally wanted to blog about something sad today, but somehow or another that dark cloud hovering above my head has been dispersed by many rays of sunshine, so now I'm in an inexplicably good mood despite the fact that I'm still in school at this unearthly time *point clock* with michael, clara and shan'er. We must be crazy or something, but hanging out at the LKC room today was really fun, what with weikiat's half-guitar-songs, michael and I belting out weird songs in the middle of nowhere, weiming's ironic comments (and his impressive mp3 collection!!), shan's deadpan humour, chianlin's crazy number of orders...we seriously went rather mad.
Anyhow, off to pack up and head home. My contacts are starting to dry up in my eyesockets - how horrible.