Friday, December 16, 2005
A hedonist's lifestyle.
It seems like my entire holiday has been all about food, parties, sleep, shopping, and salsa. All I seem to do is spend money, spend more money, and spend even more money! I've been way too spoilt recently - pampering myself with good food, splurging on little trinkets to keep myself happy, and I can't even remember when was the last time I took the bus, really.
Oh wait I can - I took SBS bus #170 to Johor Bahru to shop on Monday, believe it or not. Even more amazingly, I *survived* the trip there and back! The sacrifices one has to make to get a change in the shopping scenery...sigh. I emerged triumphant from JB, with pretty heels and tops and miscellaneous random (and arguably useless though cute) items in tow though, so it was all worth it! After I returned to Singapore - now that's another story waiting to be told on another day...
There was the day when I started my "keep-fit" regime - last, last Monday, when we headed to school to meet Howard Hunter. I actually
climbed
the overhead bridge and
walked
to the bus stop - oh the horror! That was followed by a short foosball game in the SOB staff lounge. My (rather inept) team comprised of crystal, eileen, michelle and myself, and although we got thrashed, I say we're still the reigning foosball queens! Since then, I have yet to lift a finger or leg to get anything remotely associated to exercise done. So much for my weekly swimming and blading plans.
the foosball queens! (otherwise known as the bimbo league, haha)
a very pretty shan'er :)
shopping with the girls - it keeps us fit, really!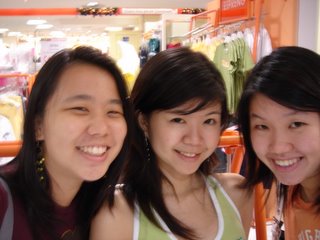 behold, darling serene has returned from the faraway land of Oxford
and lisa has turned into a Girl. yes, with the capital G. ;)
bak kut teh supper at Balestier
the amusingly white and wobbly panna cotta pudding at Menotti's
aww, don't they look so terribly sweet?
prata AFTER another round of bak kut teh at Joo Chiat
on the way home from Ghim Moh breakfast with lance today!
At the rate we're eating (especially suppers), everybody is going to end up fat. The amusing part is that all the girls aren't the ones worrying - almost all complaints about growing fat are coming from the boys! Tsk tsk, such vanity. At least even if we do end up fat, we will also be happy at the same time. The supper meetups have been really entertaining - the three easties, the three bukit timah people and shan'er stranded in the centre - the seven of us have been enjoying life (and our food), indeed. Too bad that michelle and weiming will be absent till about Christmas, since they have poofed to Spain and camp/Bangkok respectively. Come back soon, the two of you!
I'm still waiting for the pictures from khel's party - especialy the pink bikini ones! Oh, and is anyone up for checking out MOS sometime next week? :)