Monday, January 16, 2006
Memoirs of a Geisha.
Memoirs of a Geisha
has just become my favorite movie, replacing
Gattaca
, which had reigned at the top of my favorite films for the past few years. There is so much for the eye to luxuriate in - the picturesque depiction of old Kyoto, the exquisitely patterned costumes, the beautiful women...the show has truly carefully considered its aesthetics, resulting in a sumptuous feast for the eyes.
The film actually did adhere to Arthur Golden's novel, instead of distorting the story to fit the movie's purposes as most novel-adaptations tend to do. As much as I liked the novel, I loved the movie even more - it brought pre-WWII Japan into life, with its intriguing customs and the mysterious women otherwise known as geishas. The training they undergo all take them a step closer towards their ultimate goals of beauty and art. Every little gesture has to be attuned with grace and delicacy - that certainly is no easy feat.
A sprinkle of candied images to tempt you all a little:
The really pretty Suzuka Ohgo acting as the 9-year-old Chiyo.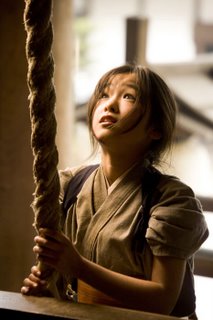 Gong Li was amazing in the film as Hatsumomo - bad-tempered in a lazy, languorous manner that just
oozed
self-confidence and pride.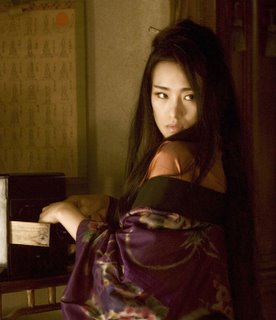 Just look at the anguish in her eyes!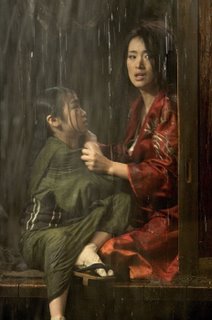 Mysterious, red glow of the lights in the hamamachi.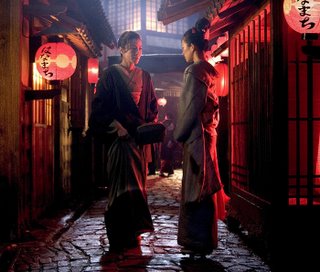 The beginning of the dance that earned Sayuri her fame.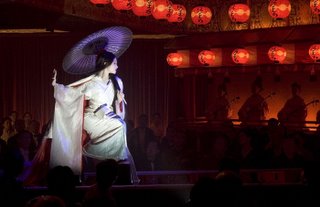 Climax of her performance.
Zhang Ziyi looked so pretty in the show - isn't this such a lovely picture?
A scene of love, beauty and happiness.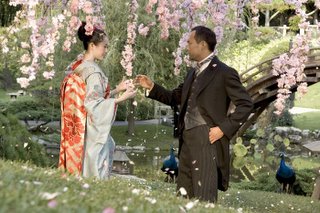 Trapped in a life of helplessness and desolation.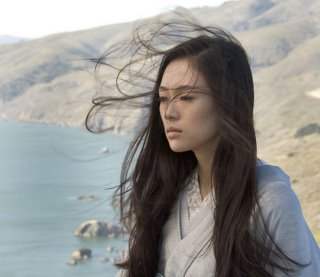 A fairytale ending. :)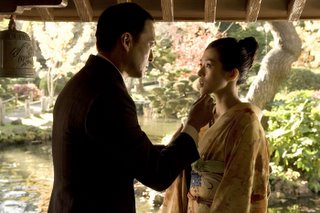 The film was very magical, like something straight out of a fairytale book. I loved it - all of you should go watch it too!